Worldwide Developers Conference 1999 (or WWDC '99) was a computer conference that was hosted by Apple Computer for its developers at the San Jose Convention Center in San Jose, California. It was Apple's 10th annual Worldwide Developers Conference, held from May 10 to 14, 1999.
Announcements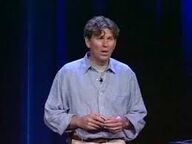 WWDC '99 was essentially a progress report as the plans outlined in WWDC '98 came to fruition. Three major announcements were the opening of the operating system underlying the new OS as Darwin, improvements to the Macintosh Finder, and the replacement of QuickDraw 3D with OpenGL as the primary 3D API. The system formerly named OpenStep, and during development termed "Yellow Box", was formally renamed Cocoa.
Attendance
2,563 developers attended WWDC '99, over a 40% increase over the previous year.[1]
Keynote video
The WWDC '99 keynote event was held on May 10, 1999: (click below to watch)
References
External links