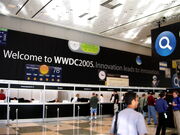 Worldwide Developers Conference 2005 (or WWDC 2005) is the 16th annual conference that was hosted by Apple Computer from June 6 to 10, 2005 at the Moscone Center in San Francisco, California, USA. The main focus of WWDC 2005 was the Intel transition.
Announcements

The following was announced during the keynote event at WWDC 2005:[1]
All times are in Pacific Standard Time (PST).
09:43: Doors have already opened.
13:02: .Mac is down for maintenance
13:04: Apple CEO Steve Jobs is now on stage.
13:14: Podcasting to form part of new iTunes.
13:35: Apple secretly maintained an Intel version of every previous release of Mac OS X.
13:40: Xcode 2.1 to be released.
14:00: Apple "world's most innovative computer company", says Intel
14:05: Keynote over.
Keynote video
The WWDC 2005 keynote video was posted on June 6, 2005: (click below to watch)
References
External links