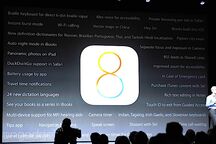 Worldwide Developers Conference 2014 (or WWDC 2014 or WWDC14) was a computer conference that was hosted by Apple Inc. for its developers at the Moscone Center's West Hall in San Francisco, California. It was Apple's 25th annual Worldwide Developers Conference, held from June 2 to 6, 2014.
Attendance
For the first time, the opportunity to buy tickets was given at random to developers who were members of an Apple developer program at the time of the conference announcement, and who registered at Apple's developer web site. Apple also awarded 200 free Student Scholarship tickets.[1][2]
Product announcements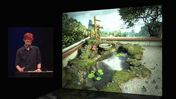 The keynote event was held on June 2, where Apple unveiled several new software products, including iOS 8—the largest update to iOS since the release of the App Store, and OS X Yosemite, which features a redesigned interface inspired by iOS. Other announcements included the new programming language Swift, the Metal API, many developer kits and tools for iOS 8, but no new hardware.
Other events
The WWDC 2014 Bash was held at the Yerba Buena Gardens, where Bastille performed live. Attendees received a black windbreaker with the letters "WWDC" across the front and the number "14" stitched on the back, along with a US$25 iTunes gift card to commemorate the 25th anniversary of WWDC.
Keynote video
The WWDC 2014 keynote was livestreamed on June 2, 2014: (click below to watch)
References
External links