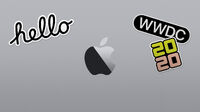 Worldwide Developers Conference 2020 (or WWDC 2020 or WWDC20) is the 31st annual computer conference to be hosted by Apple Inc. It began on June 22, 2020,[1] with online sessions from June 23 to 26.[2]
Announcements
Apple CEO Tim Cook opened the his first virtual keynote keynote address to discuss issues of countering racism and challenges involving COVID-19. He also discussed WWDC 2020 being held in an online format for the first time due to social distancing requirements. Senior VP Craig Federighi continued with updates of Apple's platforms, beginning with iOS 14, featuring the App Library and Widgets. CarKey allows unlocking of cars through iPhones and is backwards compatible with iOS 13.4. iPadOS received its first major update with iPadOS 14, which includes a revised Photos app with a new sidebar and drop-down menus. AirPods Pro now support spatial audio.[3]
watchOS 7 now supports complications developed through Swift UI. Watch faces can also be shared. The Workout app added support for dance. watchOS 7 added support for Winddown, Sleep and updated wake. tvOS 14 now includes multi-user support and updated support for HomeKit.[3]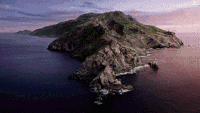 macOS Big Sur (version 11.0) was announced as the new successor to MacOS Catalina, featuring a new iPadOS-style dock, translucent menus, and other new features closely tied to iOS 14. CEO Tim Cook and Senior VP Johny Srouji revealed that the Mac product line would transition to Apple processors over the next 2 years. macOS Big Sur supports both Intel and Apple processors, in a dual binary called Universal 2. Older 64-bit Intel Mac software is supported by emulation through Rosetta 2.[3]
Background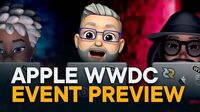 WWDC 2020 is the first Worldwide Developers Conference to be held virtually in an online format, due to the COVID-19 outbreak that temporarily closed all of Apple's retail stores at various times around the world.[4] Online access to WWDC 2020 was free to all registered members of the Apple Developer program.[1] According to Cook, 22 million viewers streamed content from WWDC 2020 and 4,500 one-to-one developer sessions were held.[5]
Anticipated new announcements included iOS 14, which was developed to accommodate new features of upcoming iPhones; watchOS 7, which included a new "Kids mode" (released as Family Setup) for Apple Watches; new iPadOS and macOS features; and new Apple processors that are expected to be introduced into the Mac product line.[6][7]
Submissions for the Swift Student Challenge were open through May 17, 2020.[1] The winners were announced on June 16, 2020.[8]
Schedule
(all times are in Pacific Daylight Time)
June 18: New forums launched on the Apple Developer website and app. From the first day of WWDC sessions, developer program members will be able interact with engineers.
June 22: Special Event Keynote and Platforms State of the Union began at 10 a.m.
June 23-26:

Engineering Sessions — Over 100 technical and design-focused videos will be presented by Apple engineers. Videos will be posted each day at 10 a.m. through the Apple Developer app and website.
1-on-1 Developer Labs — Developers can request appointments with Apple engineers for one-on-one technical guidance on how to implement new features. Developer lab appointments are limited to space available.[2]
Video gallery
The WWDC 2020 Special Event Keynote and Platforms State of the Union was livestreamed through the Apple Developer website, app and YouTube. This was followed by daily video recaps of the engineering sessions:
References
↑ 1.0 1.1 1.2 Apple to host virtual Worldwide Developers Conference beginning June 22, Apple Inc. 2020-05-07.
↑ 2.0 2.1 Apple reveals lineup for its biggest-ever Worldwide Developers Conference, Apple Inc. 2020-06-11.
↑ 3.0 3.1 3.2 WWDC Special Event — June 22 by Apple, YouTube. 2020-06-22.
↑ Apple's Worldwide Developers Conference 2020 kicks off in June with an all-new online format, Apple Inc. 2020-03-13.
↑ Tim Cook touts successful all-online WWDC 2020 with 22 million viewers, more by Michael Potuck, 9to5Mac. 2020-07-30.
↑ Apple will announce move to ARM-based Macs later this month, says report by Jon Porter, The Verge. 2020-06-09.
↑ watchOS 7 to Include Kids Mode That Shifts Focus of Activity Rings Away From Calories Burned by Juli Clover, MacRumors. 2020-03-30.
↑ Apple's WWDC20 Swift Student Challenge winners determined to shape the future, Apple Inc. 2020-06-16.
External links
Articles