Worldwide Developers Conference 2021 (or WWDC 2021 or WWDC21) is the 32nd annual computer conference that was hosted by Apple Inc. It began on June 7, 2021, with online sessions for registered members of the Apple Developer program from June 8 to 11.[1][2] This year's tagline was "Glow and behold."[3]
New announcements
Scheduled events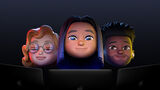 Apple Keynote

June 7, 10 a.m. PDT
Platforms State of the Union

June 7, 2 p.m. PDT
Apple Design Awards

June 10, 2 p.m. PDT
Pavilions

June 8-11: Over 200 in-depth sessions will be organized into "Pavilions" to help developers easily find relevant labs and activities by topic.[2]
Swift Student Challenge

June 1: The submission period for the Swift Student Challenge, Apple's annual scholarship event, was open from March 30 to April 18, 2021.[1][7] The winners were announced on June 1st.[2]
Background
Videos
References
↑ 1.01.11.2 Apple's Worldwide Developers Conference is back in its all-online format, Apple Inc. 2020-03-30.
↑ 2.02.12.2 Apple's all-online Worldwide Developers Conference kicks off June 7 with keynote address, Apple Inc. 2021-05-24.
↑ 3.03.1 Apple WWDC 2021: iOS 15, MacOS 12 and everything we expect by Patrick Holland, C|NET. 2021-05-14.
↑ WWDC 2012: Key Products Launched at Apple WWDC. TechStroke (June 12, 2012). Retrieved on May 24, 2019.
↑ WWDC 2021 — June 7 by Apple, YouTube. 2021-06-07.
↑ Apple officially announces virtual WWDC 2021 for June, iOS 15 and more expected by Chance Miller, 9to5Mac. 2021-03-30.
↑ Apple WWDC Scholarship Guide – How to Apply in 2021 by Mehul Mohan, FreeCodeCamp. 2020-08-21.
↑ Apple's Worldwide Developers Conference 2020 kicks off in June with an all-new online format, Apple Inc. 2020-03-13.
↑ Apple to host virtual Worldwide Developers Conference beginning June 22, Apple Inc. 2020-05-07.
External links