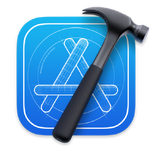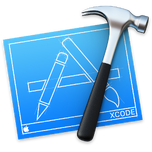 Xcode is Apple's integrated development environment (IDE) for developing applications and other software for macOS. It was introduced in 2003 for Mac OS X running on PowerPC, and then Intel processors.[1]
On June 22 at the 2020 Worldwide Developers Conference, a developer beta of Xcode 12 was introduced with support for Universal 2 binaries that can run on 64-bit Intel and Apple processors.[2]
Features
Xcode extends and replaces Apple's previous development tools: Project Builder (inherited from NeXT) and Macintosh Programmer's Workshop (for classic Mac OS software). It also superseded CodeWarrior, a popular 3rd-party IDE for developing classic and Carbonized PowerPC software.
Xcode works hand in hand with Interface Builder (also inherited from NeXT), a graphical tool used to create user interfaces.
Xcode includes GCC, and can compile C, C++, Objective C++, Java, and Objective C source code with a variety of programming models, including but not limited to Cocoa, Carbon, and Java.).
Release history

Xcode was first included free with Mac OS X 10.3, which shipped in October 2003. It is able to develop OS X applications that can run on any version of OS X. However, it did not officially work in Mac OS X 10.2. Xcode has been available from the App Store since version 4.
Note: all dates and details below are based on Apple's published dates. Someone will need to download all these versions and check the release notes included in the DMGs to get the real dates and details, as some are questionable.
Xcode Tools 1.0 - Oct 24, 2003

GCC 3.3
Interface Builder 2.3.4
Applescript Studio
Documentation
Performance Tools
Target OS: 10.3+

Xcode Tools 1.1 - ?
Xcode Tools 1.2 - ?
Xcode Tools 1.5 - ?
Xcode Tools 2.2.1 - Jan 13, 2006
Xcode Legacy Tools - Jan 19, 2006

OS X 10.1.5 SDK for Xcode 2
GCC 2.95.2
GCC 3.1
PEFViewer
Target OS: 10.3+

Xcode 2.3 - May 23, 2006
Xcode 2.4 - Aug 11, 2006
Xcode 2.4.1 - Oct 31, 2006
Xcode 2.5 - Nov 1, 2007
Xcode 3.0 - Oct 31, 2007
Xcode 3.1 - Jul 11, 2008
Xcode 3.1.1 - Oct 20, 2008
Xcode 3.1.2 - Nov 24, 2008
Xcode 3.1.3 - Jun 17, 2009
Xcode 3.1.4 - Sep 10, 2009
Xcode 3.2 - Aug 31, 2009
Xcode 3.2.1 - Oct 13, 2009
Xcode 3.2.2 - Apr 7, 2010
Xcode 3.2.3 - Apr 19, 2011?
Xcode 3.2.4 - Apr 20, 2011?
Xcode 3.2.5 - Apr 20, 2011?
Xcode 3.2.6 - Apr 21, 2011
Xcode 4.1.0 - Mar 22, 2012?
Xcode 4.2.0 - Mar 22, 2012?
Xcode 4.2.1 - Mar 22, 2012?
Xcode 4.3.0 - Mar 22, 2012?
Xcode 4.3.1 - Mar 22, 2012?
Xcode 4.3.2 - Mar 22, 2012?
Xcode 4.3.3 - Jun 11, 2012
Xcode 4.4.0 - Dec 5, 2011?
Xcode 4.4.1 - Dec 5, 2011?
Xcode 4.5.0 - Sep 19, 2012
Xcode 4.5.1 - Oct 3, 2012
Xcode 4.5.2 - Jan 14, 2013
Xcode 4.6.0 - Feb 20, 2013
Xcode 4.6.1 - Mar 14, 2013
Xcode 4.6.2 - Apr 15, 2013
Xcode 5.0.0 - Sep 18, 2013
Xcode 5.0.1 - Oct 22, 2013
Xcode 5.0.2 - Nov 11, 2013
Xcode 5.1.0 - Mar 10, 2014
Xcode 5.1.1 - Apr 10, 2014
Xcode 6.0.1 - Sep 25, 2014
Xcode 6.1.0 - Oct 22, 2014
Xcode 6.1.1 - Dec 2, 2014
Xcode 6.2.0 - Mar 9, 2015 (build 6C131e)
Xcode 6.3b3 - Mar 12, 2015 (build 6D543q)
Xcode 11.6 - Jul 15, 2020 (build 11E708)[3]
Xcode 12.0b1 - Jun 22, 2020 (build 12A8158a)[4]
Xcode 12.0b2 - Jul 7 2020 (build 12A8161k)[5]
Xcode 14.0b1 - Jun 6, 2022 (build 14A5228q)[6]
References
See also
External link